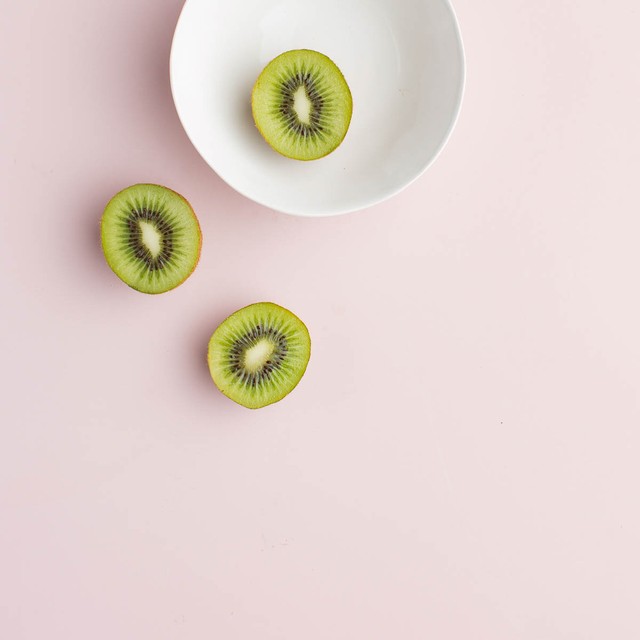 These sweet and tangy small fruits are full of nutrients like vitamin C, vitamin K, vitamin E, folate, and potassium. They also have a lot of antioxidants and are a good source of fiber.
Did you know the the fuzzy brown peel is edible?
Scroll down for a yummy Kiwi Smoothie Recipe.
HEALTH BENEFITS OF KIWIS
1. Can help treat asthma
It's thought that the high amount of vitamin C and antioxidants that kiwis contain can actually help treat people with asthma.
2. Aids digestion
Kiwis have plenty of fiber, which is already good for digestion. They also contain a proteolytic enzyme called actinidin that can help break down protein.
3. Boosts the immune system
Kiwis are nutrient-dense and full of vitamin C. In fact, just 1 cup of kiwi provides about 273 percent of your daily recommended value. Vitamin C is an essential nutrient when it comes to boosting your immune system to ward off disease.
4. Reduces risk of other health conditions
Oxidative stress can result in damage to our DNA. This can lead to health problems. Partially thanks to its antioxidants, there is some evidence from an older study that regular consumption of kiwi or kiwi extract reduces the likelihood of oxidative stress. Since oxidative DNA damage is strongly linked to colon cancer, regular kiwi consumption could lower your risk of colon cancer, too.
5. Can help manage blood pressure
Not only can kiwi fruits provide an extra boost to our immune system, they can also help us to manage our blood pressure.
6. Reduces blood clotting
In addition to helping us manage our blood pressure, kiwis can actually reduce blood clotting.
7. Protects against vision loss
Macular degeneration is the leading cause of vision loss, and kiwis might help protect your eyes from it.
Kiwi Smoothie       
Ingredients  
3 kiwifruit, peeled and cut into chunks
2 medium ripe bananas, cut into 4 pieces and frozen
1 cup frozen blueberries
1 cup (8 ounces) fat-free plain yogurt
3 tablespoons honey
1/4 teaspoon almond extract, optional
1-1/2 cups crushed ice
Directions
In a blender, combine the fruit, yogurt, honey and extract if desired; cover and process until combined. Add ice; cover and process until blended. Stir if necessary. Pour into chilled glasses; serve immediately.
Nutrition Facts
1 cup: 196 calories, 1g fat (0 saturated fat), 1mg cholesterol, 48mg sodium, 46g carbohydrate (37g sugars, 5g fiber), 5g protein.    
Sources:
https://www.healthline.com/health/7-best-things-about-kiwi#manages-blood-pressure
https://www.tasteofhome.com/recipes/kiwi-smoothies/
Please follow and like us: