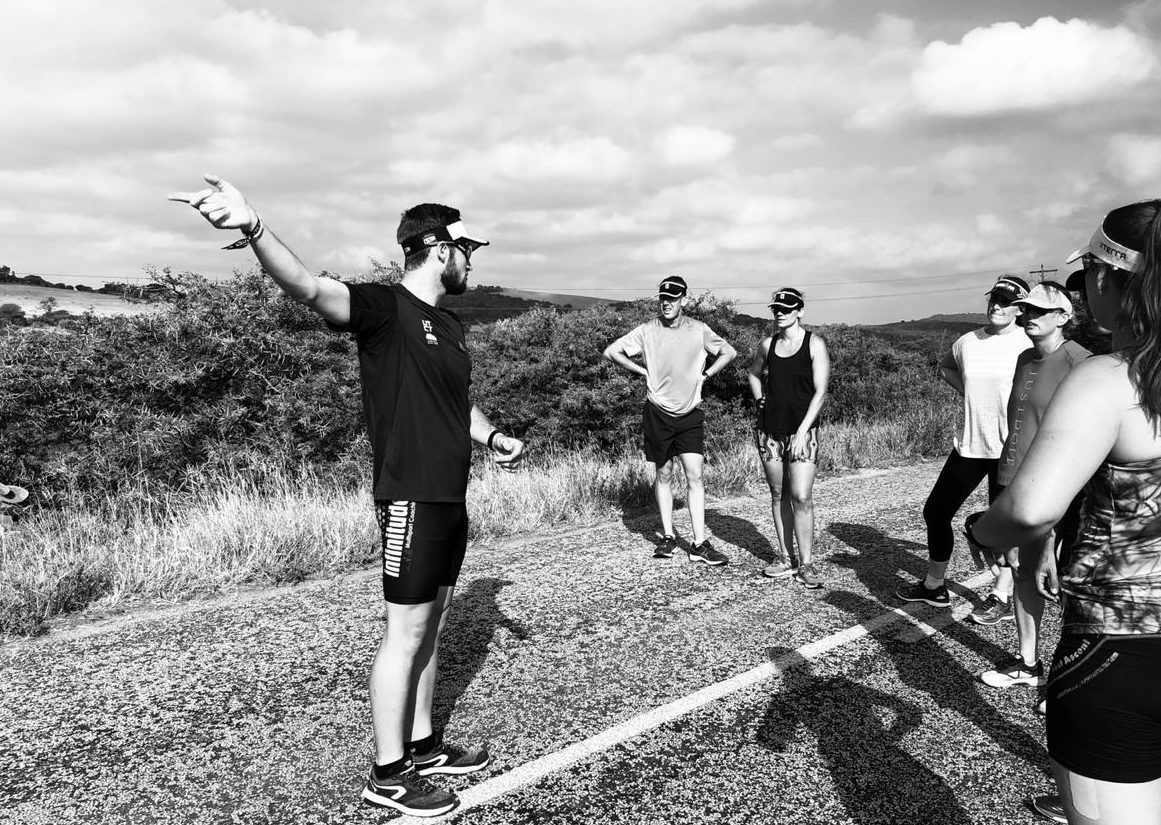 If you know an endurance athlete, you probably think they're crazy. If you are an endurance athlete, you probably think other endurance athletes are crazy. If you want to be an endurance athlete, you know the nuts and bolts are coming apart and simply need some guidance in the best practices so you don't do something super crazy, like an Ironman. Or… If you do end up doing one, then you'll do it knowing you'll finish strong!
We're assisting with the Infinitude Coaching training camp happening at Nduna Lodge in the Eastern Cape. With Day 1 complete, the coaches are proud and the athletes are… Well, they're still alive and kicking. Programme for day 1:
5:30 – Run (Comfortable 8-12km)
7:30 – Breakfast
9:00 – Bike (Out, Back & Hills – min. of 3 climbs with 11% Gradient & 1.6km per climb; Category 4 Climb)
12:00 – Lunch & Down-Time
16:00 – Run (Intervals; 8 x 600m at 80-90% effort; 90 sec rest)
17:30 – Strength & Conditioning (Mobility & Strength Appropriation)
19:30 – Dinner
21:00 – SLEEEEEEP
After day 1, athlete Gerard Hung, managed to up his VO2max from the "rough" day. "It's amazing what the body is capable of when you push past what you think is your max!" I definitely couldn't have said it any better.
Training Camps are traditionally designed for us to learn what our bodies are capable of and how to overcome limitations. If you've ever taken part in some form of training camp, you'll know what I'm talking about. It's at those times that self-talk and believe in something greater than ourselves tends to get us through.
My two toughest moments of Day 1 were:
Going down hills (-7% gradient and more) on a bike at about 60km/hr – I can swim, I can basically run, but cycling is not something I'm confident with. I know this was not the max speed of the tribe for the day (nor my fastest speed ever) but I held on so tightly that if a crane had lifted me up, my cleat-less feet would have been stuck to the pedals. #anxietyisreal (It's tough to be pushed out of your comfort zone, and completely satisfying when you see the success.)
Keeping up the pace for the last intervals. My right gluteal region was ceasing, my left calf wasn't happy with me for running 65km a few weeks ago at Ultra Trail Cape Town, and the heat was immense. Sometimes, you need to tap out to prevent injury but I knew this would only become an injury if I lost focus. All I could do to keep the focus was say, "engage the core, drive the knees, and keep the pace". I may have lost some pace, but I don't believe I lost face and I'm definitely feeling stronger for it on Day 2! (You know it's a tough session when you struggle to keep going.)
Some running tips to use in your triathlons:
Not every step has to be 100% speed, but every step should be 100% strong (if you can't maintain your strength, contact us here)
Cadence training will save you when you can't run anymore but need to keep moving, your body will just know what it needs to do to move forwards
Cadence training will also save you on a hill, whether its +2% or +10%
Keep your abdominals, hips, and knees strong even if it feels like a waste of 30 min. – aerobic capacity training will allow you to finish, resistance training will allow you to finish strong
Last words of the wise from my coach, Louise Strydom (Infinitude Coaching), someone that has inspired me and pushed me far beyond what I believed to be possible this year:
"When you push yourself to your physical and mental limitations and push through to new peaks, our true characters are revealed." 
Please follow and like us: