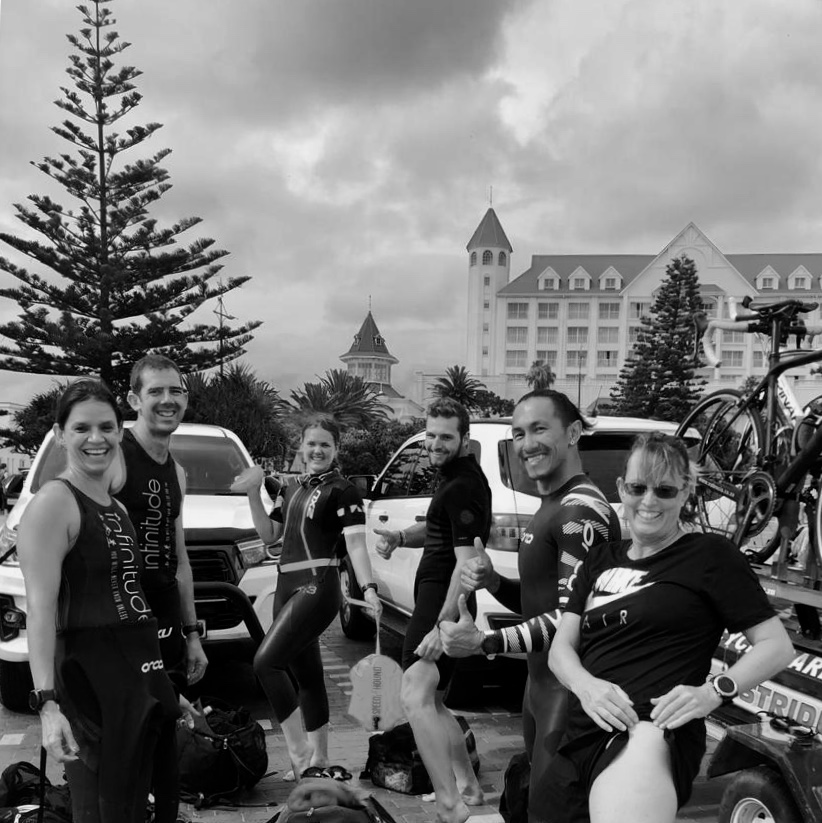 Imagine working, sporting, or living in what your brain would consider your 'ideal environment' (IE for short). What would this look like? How would it impact your productivity or effectiveness? And, when would you get tired of it? Sometimes in life, we look at people living on 'the other side' where the grass is greener and the honey sweeter.
Back to the Infinitude Triathlon Training Camp saga, we're looking at Day 3 and how battling the elements in a sport like triathlon can teach you valuable lessons in the office and at home! Reaching halfway through the camp was bitter-sweet since it meant we're heading towards the end, sadly, as well as not having to push our bodies and minds to their limits day in, day out. #catch22
Here's an outline of Day 3:
05:30 – Wake-up, get-up & pack-up (Packing swimming, bike, and running gear… just in case the bike wasn't safe due to high wind-speeds)
06:30 – Breakfast and plan of action for the day (depart from Nduna Lodge for 9am start)
09:00 – Be ready for a "fresh" Ocean swim (where Ironman PE is held annually)
10:30 – Get to 'Something Good' restaurant and begin an out-and-back ride to Sacramento (along the coast)
13:00 – Lunch-time at 'Something Good' (… thank goodness it was right there)
15:00 – Head back to Nduna Lodge
17:30 – Strength & Conditioning Session (with a sunset view and complex moves)
19:30 – Dinner (… much deserved and needed)
21:00 – Crawl to bed, sleep like the dead
When it comes to any sport, you need to be aware of yourself, those around you, and of course the external environment (EE). Earlier, I mentioned your IE. In a triathlon, this means if everything goes according to plan, your body is functioning properly, the people around you (EE1) behave like they should, and the weather (EE2) at least plays along a bit, you're out for a great day!
Oftentimes, one or more of these elements isn't quite optimal, to put it lightly. Specific training in adverse conditions is the best preparation for any form of physical pursuit so that whatever race day throws at you, you can handle it! (Side note, this is just as applicable in the boardroom and around the kitchen table after long, challenging days and differences of opinion.)
The battle of elements on Day 3 for me began with the Open-Water Swim around the Port Elizabeth pier. I figured my regular shorty wet-suit I use for swimming coaching would suffice. I barely survived a 1.5km swim in 17 degree Celsius water. This was not the only mental challenge – swimming over two giant black objects on the ocean floor is pretty unnerving, so it made for a fairly interesting, 'Eyes-Wide-Shut' Swim. From this I learned:
We can be confident in our abilities but some things can not be overcome by ability alone – that is where an acceptance of limitations and a willingness to grow becomes clear (or not). I have been swimming for approximately 12 years, I'm strong and competent in the water but the cold sank into my bones. I had to accept that my thermo-regulators were going out of whack and I had to get back to shore. I had to throw in many power strokes and pick-up the speed. (Breathing in the ocean isn't so easy either…)
We can't take care of others if we can't take care of ourselves. Due to the cold, I couldn't ensure everyone was safe, not being pulled out by the strong current of the ocean, bring anyone struggling back to shore. This for me was quite frustrating but I had to believe the others had the ability make it back and trust no harm would befall anyone – which it didn't.
That was the swim – only 30 minutes and so many lessons. The bike's kryptonite was an immense head-wind going out towards Sacramento. Everyone felt it, and my mountain bike was happy to bear the brunt of it (I honestly wasn't). It was a head-game the whole ride: still warming-up from the swim, holding 18km/hr on the bike with legs that barely wanted to move and the eventual disappearance of the camp tribe from sight.
If my coach hadn't noticed my drop in spirit (and pace), I probably would have done half of the distance. It had been a rough week up to this point. Luckily the temperature (EE2) was manageable and as I warmed-up I felt better function in the legs (supported by my coach's draft, which helped more than I imagined it would… now I know why that's not allowed in races). Herein lies the importance of a coach: "they know your highs, they know your lows; they keep you humble on the top, get you back to the top now matter what your bottom; and they have the tools you don't have when you need them most". 
I was exhausted at lunch and had no idea how I'd manage to coach a group of people experiencing the same as me. When it came to the last session of the day, everyone gave their all as they had the entire week. We did a super circuit of note and some sunset watching with many laughs and no tears = it was a success and exactly what I needed to get up the next day.
At the end of the day, we often think, "Oh, look at how (insert name) is enjoying life when I'm bogged down here in the office… blah, blah, moan, moan." When that person is actually in reality struggling with difficult interpersonal relationships, barely paying their bills each month, and taking care of their ill mom. The green is what they decide to show the world, beneath is the soil they toil away at so they can be at peace. They are harnessing the elements they have to endure so they can grow, what are you doing with your elements? Suffering under them or harnessing them?
Our battles with the elements happen day in and day out. They impact our moods and our words but they actually do not have the power we give them. If we can harness the elements to perform, we can live our lives in optimal form.
Please follow and like us: